Welcome to the...
MY FRIEND PEDRO WIKI
Founded by JustLeafy on July 11, 2021
  82 articles        18 files        354 edits
info   ABOUT THE WIKI

This is an encyclopedic resource of everything about My Friend Pedro video game series that anybody can edit! This wiki includes documentation on all of the games, the characters, the weapons and more!
Note that we are not endorsed with DeadToast Entertainment, Devolver Digital or any affiliates.
question   WHAT IS MY FRIEND PEDRO?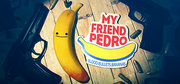 My Friend Pedro is an action indie shooter game developed by DeadToast Entertainment and published by Devolver Digital on June 20, 2019.
Gameplay
In this game, the protagonist obliterates enemies in his path at the behest of a sentient banana. The game features strategic use of split aiming, slow motion, and a window breach which could create an action sequence after another through the underworld.
Chapters

READ MORE
pin   FEATURED ARTICLE: PEDRO


Pedro is the sentient homonymous banana of the protagonist of the My Friend Pedro games of the series. He is a figment of imagination and corrupting influence of the protagonist who influences him into fighting his away out through a torrent of violence and mass destruction against those who want him dead.
READ MORE